Thank you for visiting GENKI Official Site.
The system of our site is based on Japanese.

The credit settlement page is in Japanese only, so please refer to the translation below.
Please also use google's translation function.
We apologize for any customers using languages other than Japanese.
The sample of credit card settlement information input screen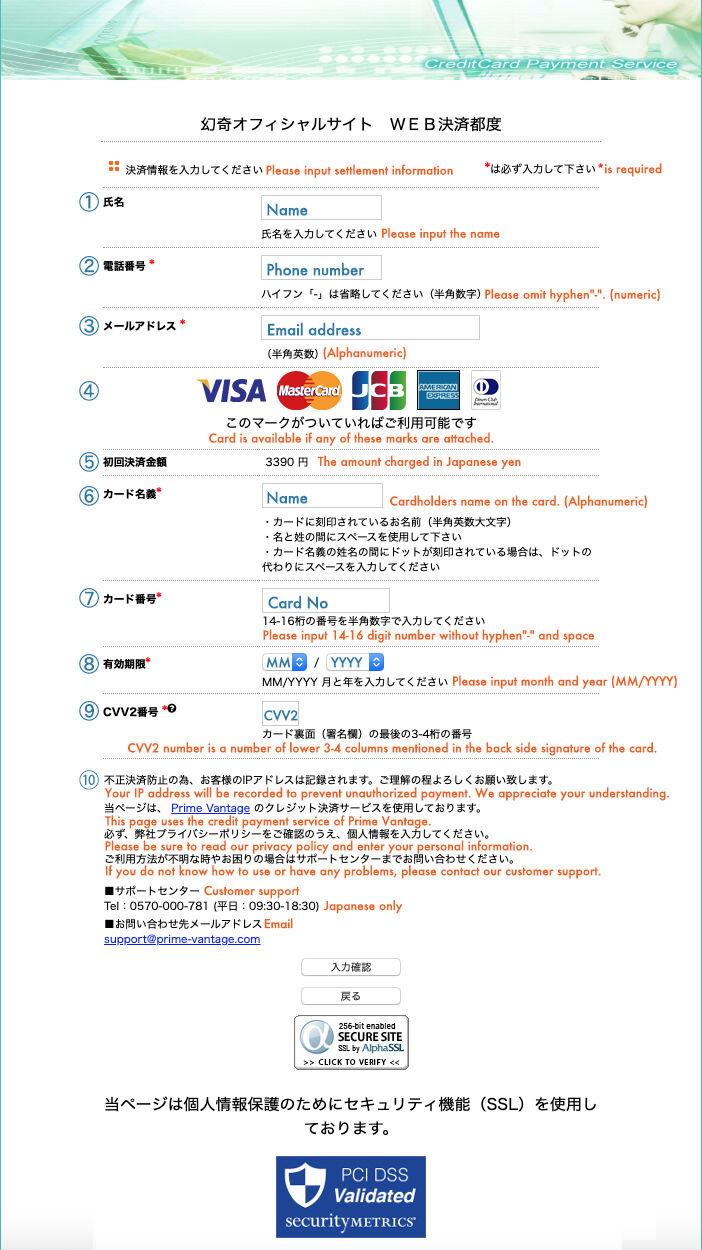 Please input settlement information
*is required
①Name (Please input the name)
②TEL (Please omit hyphen"-". numeric)
③Email address (Alphanumeric)
④Available cards (Card is available if any of these marks are attached)
⑤Amount (The amount charged in Japanese yen)
⑥Cardholder's name (Cardholder's name on the card. Alphanumeric)
⑦Card No (Please input 14-16 digit number without hyphen"-" and space)
⑧Expiration date (Please input month and year (MM/YYYY))
⑨Card CVV2 (CVV2 number is a number of lower 3-4 columns mentioned in the back side signature of the card)
⑩ Your IP address will be recorded to prevent unauthorized payment.
We appreciate your understanding.
This page uses the credit payment service of Prime Vantage.
Please be sure to read our privacy policy and enter your personal information.
If you do not know how to use or have any problems, please contact our customer support.
■Customer support
Tel:0570-000-781 Japanese only
■Email
support@prime-vantage.com
This page uses a security function (SSL) to protect personal information.
GENKI Official Site's settlement currency is Japanese Yen.
IMPORTANT Exchange rates link indicated are for reference only and may change at any time during the day.